Herman Aguinis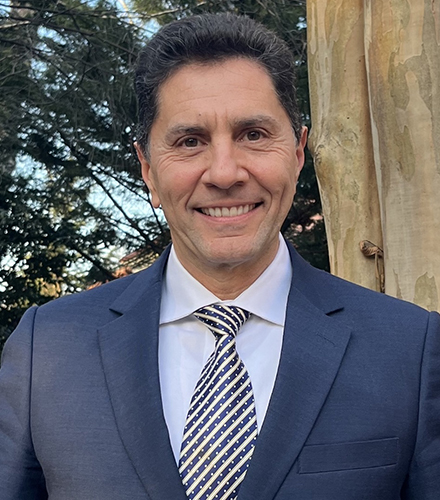 Herman Aguinis
Avram Tucker Distinguished Scholar & Professor of Management
---
Contact:
Office Phone:
(202) 994-6976
2201 G Street NW, Suite 311
Washington, DC 20052
Herman Aguinis is the Avram Tucker Distinguished Scholar and Professor of Management at the George Washington University School of Business, where he also served as chair of the Department of Management (2019-2022) and director of the Master of Human Resources Management Program. Every year since 2018, Web of Science Highly Cited Researchers Reports has ranked him among the world's 100 most impactful researchers in Economics and Business. He served as president of the Academy of Management (AOM) (2021-2022), and has been inducted into The Ph.D. Project Hall of Fame. His work has received over 52,000 Google Scholar (h-index = 100) and 19,000 Web of Science citations. Before joining GWU, he was the John F. Mee Chair of Management and the founding and managing director of the Institute for Global Organizational Effectiveness at the Kelley School of Business, Indiana University. In addition, he held appointments at universities in China, Malaysia, Singapore, Argentina, France, Spain, Puerto Rico, Australia, the United Kingdom, and South Africa. He earned his Ph.D. in industrial and organizational psychology from the University at Albany, State University of New York.
His interdisciplinary research addresses the global acquisition and deployment of talent in organizations and organizational research methods (i.e., behavioral science and data science). Recent projects address corporate social responsibility and business sustainability, domestic and international workforce diversity, leadership, innovation and entrepreneurship, human capital development, performance management and star performance, and innovative methodological approaches for developing and testing theories. His professional and life agenda is to impact the academic community and society. Please visit his YouTube channel to view his videos.
Professor Aguinis has written about 210 refereed journal articles, about 50 book chapters, monographs, and other publications, has delivered about 40 keynotes and more than 300 presentations at professional conferences, delivered about 170 invited presentations in all seven continents except for Antarctica and raised about $5MM for his research and teaching endeavors from private foundations and federal sources (e.g., National Science Foundation).
He has published eleven books, including Performance Management for Dummies (2019); Performance Management (5th edition, 2023; also published in Chinese, Arabic , and Persian/Farsi ); Applied Psychology in Talent Management (8th edition, 2019, with W.F. Cascio; also published in Chinese); Regression Analysis for Categorical Moderators; and the following edited volumes: Opening the Black Box of Editorship (with Y. Baruch, A.M. Konrad, & W.H. Starbuck) and Test-Score Banding in Human Resource Selection.
He is a fellow of the Academy of Management (he also served as deputy dean of the AOM Fellows), the American Psychological Association, the Association for Psychological Science, and the Society for Industrial and Organizational Psychology, and has been inducted into the Society for Organizational Behavior. He has received many recognitions and awards, including the Losey Award by the Society for Human Resource Management Foundation for lifetime achievement in human resource research, Academy of Management Research Methods Division Distinguished Career Award for lifetime contributions, Society for Industrial and Organizational Psychology Scientific Contributions Award for lifetime contributions, Academy of Management Practice Theme Committee Scholar Practice Impact Award recognizing outstanding impact on policy making and managerial and organizational practices, Academy of Management Entrepreneurship Division IDEA Thought Leader Award, International Council for Small Business Global Leadership Excellence Award in Support of MSMEs, Indiana University Dr. Martin Luther King Building Bridges Award for promoting equality, equity, diversity, and justice, and Indiana University Latino Faculty and Staff Council Distinguished Faculty Award recognizing his service, mentoring, and promotion of diversity initiatives. In addition, he received eight best-Article-of-the-year awards (four of them with his doctoral students) from Journal of Management, Personnel Psychology, Journal of Organizational Behavior (twice), Academy of Management Perspectives, Organizational Research Methods, Business Horizons, and Management Research.
He served as editor-in-chief of Organizational Research Methods, co-editor of special issues of the Journal of Management on "bridging micro and macro research domains," Personnel Psychology on "corporate social responsibility," Journal of World Business on "methodological advances in international business research," and contributing editor of Business Horizons. He also served as president of the Iberoamerican Academy of Management, served as founding associate editor of the Annual Review of Organizational Psychology and Organizational Behavior, and serves or has served on the editorial board of 28 journals.
Professor Aguinis teaches courses at the MBA, executive, and doctoral levels in the areas of organizational behavior, human resource management, and research methods and analysis, such as performance management, foundations of management, human capital & talent acquisition, training and development, staffing, global organizational effectiveness, international management, statistics, and organizational research methods. He has taught at universities in North and South America (e.g., Argentina, Canada, Chile, Peru, Puerto Rico), Asia (e.g., Israel, China, Lebanon, Malaysia, Singapore), Australia/Oceania, Europe (e.g., France, Ireland, Spain, United Kingdom), and Africa.
In addition to his academic activities, Professor Aguinis has consulted with organizations in the U.S., Europe, and Latin America (he is a native Spanish speaker), including the United Nations, TCI-AT&T, Accenture, the City of San Francisco Police Department, and Sears Holdings Corp., among others. The U.S. Department of State appointed him to serve a five-year term on the Board of Examiners for the United States Foreign Service; he has provided expert testimony and written briefs for several high-profile court cases, including the Ricci v. DeStefano U.S. Supreme Court case involving firefighters in the City of New Haven (Connecticut). He has served as SIOP representative to the United Nations Economic and Social Council. His research has been referred to in court cases at the U.S. Supreme Court and U.S. District Court levels. Also, his research is featured regularly on LinkedIn & Twitter (about 32,000 followers combined), YouTube, as well as traditional media outlets in the U.S. and abroad, including The Economist, Wall Street Journal, Forbes, Business Week, National Public Radio, USA Today, HR Magazine, and Univision, among others.
---
Leading individuals and teams simultaneously within the context of changes in the nature of work
Leading a diverse and global workforce
Enhancing organizational performance through human capital development
Leading sustainable and responsible organizations to do good and do well
Creating new and actionable knowledge by integrating micro and macro theories and research domains
Creating new and actionable knowledge by integrating qualitative and quantitative methodological approaches and improving methodological knowledge and practices
Ph.D., University at Albany, State University of New York, 1993
M.A., University at Albany, State University of New York, 1992
B.A., University of Buenos Aires (Argentina), 1988
Foundations of Management
Research Methods and Design
Strategic Human Capital Acquisition and Development
Performance Management & Employee Development
Human Capital & Talent Acquisition