Dear GWSB Community,
Time really does fly when we're having fun! With the Fall break already behind us, I hope the rest of the semester is filled with the energy and enthusiasm we have seen on campus this fall, and our students continue to make us #GWSBProud. I'd like to once again congratulate the 17 students who have been selected for the Real Estate & Finance Alliance (REFA) Class of 2025. It was a great pleasure to have the opportunity to meet the new mentees during the welcome event last week. Also last week, it was great to stop by the Strategy Case Competition for our Global MBA program. Congratulations to the participants and especially to this year's winning team. And a special thank you to our alumni judges for the insight and guidance they shared with our students as part of this enriching learning experience.
On October 22, I flew out to California to attend a reception hosted by Susie Selby, M.B.A.'85, owner of the Selby Winery in San Francisco's Sonoma County. Joining us for the wine and food tasting were around 50 alumni, parents, friends, and supporters from our Bay Area and West Coast community. I'm grateful to all those who came out with us for their continued engagement on behalf of GWSB, and to Ms. Selby for her continued efforts to bring us together—with this gathering marking the ninth such event she has hosted. 
As I close, I want to make sure you are aware that on Thursday, Nov. 10, our Diversity Council will open its Book Club to students for the first time, with discussions scheduled for 5:00 - 6:00 p.m., on "The Loudest Duck: Moving Beyond Diversity While Embracing Differences to Achieve Success at Work" by Laura Liswood in Duquès Hall, Room 553, and "Beast Rider" by María Elena Fontanot de Rhoads and Tony Johnston in Funger Hall, Room 520. All students, faculty, and staff are invited to participate.
To that end, I'd like to invite you to share what books you are enjoying right now. We will highlight book recommendations from our GWSB community members in my future monthly messages. You can share them with me by replying to this email.
Stay safe, stay well, and good luck to all our students studying for midterms!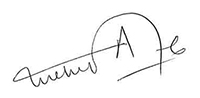 Anuj Mehrotra, Ph.D.
Dean