Dear GWSB Community,
Happy 2023 and welcome back from what I hope was a safe, restful and enjoyable break for everyone. As for me, I stayed in Washington, D.C. with my family and hosted extended family at home over the holidays. Our holiday highlights included a trip to the National Zoo, taking some great selfies at the National Christmas Tree, and short excursions in a two-hour driving radius around D.C. that helped me rediscover what great a location we are in. It was fantastic and most relaxing to have this reset before the start of travels in January.

And now, I am so looking forward to our work together in this new year. It is difficult to contain the excitement for all that is planned just in the next few months! We'll have a fresh new season of George Talks Business that promises to be so much fun, we'll welcome some extraordinary speakers to celebrate our GWSB Diversity & Allyship Week, advance our exciting work on the Penn West Equity and Innovation District, and welcome industry leaders and policymakers to have a robust discussion in our inaugural GW Business and Policy Forum on cybersecurity. We will also host the School's 'Wine Down' research sessions for faculty, along with departmental research seminars, highlighting current research carried out by GWSB faculty, particularly among junior colleagues. And we will continue our efforts in preparing for the upcoming AACSB reaccreditation review.

This is going to be a very exciting and busy semester for GWSB undergraduates, with many well-planned and highly-anticipated events organized by our talented student leaders. Our graduate students are also ready for the semester filled with signature events and unique opportunities, including online Graduate Industry Roundtables, events from the graduate student group the GW Black MBA Association, and many more. And while I don't want to look too far ahead, I am already imagining the extraordinary days we'll have to celebrate our graduates in May.

I will also be on the road quite a bit in the spring – particularly over the next few weeks, and look forward to sharing my experiences meeting with our alumni, parents, and friends in my next monthly message.
Upcoming Events
We open the year with events such as the university-wide
MLK Day of Service and Leadership
 on Monday, January 16, Martin Luther King, Jr. Day, from 11:00 a.m. - 4:00 p.m. EST.
On Wednesday, January 25, GW Law Dean Dayna Bowen Matthew and I will host a
joint GWSB/GW Law alumni reception
 at the Charles E. Smith Center and will cheer on our men's basketball team as they take on the Saint Joseph's Hawks.
In February, we will host our GWSB Diversity & Allyship Week with a number of events, kicking off with a special session of
George Talks Business featuring Elena Richards
, chief diversity & inclusion officer at KPMG, on Monday, February 6 at 1:00 p.m. EST in the Jack Morton Auditorium.
On Tuesday, February 7 at 12:00 p.m., we will have a virtual Fireside Chat and Panel Discussion on Diversity, Equity, Inclusion and Allyship. Among the panelists for the discussion are Christine Brown-Quinn (M.B.A. '92), who many across our university know from her dedicated involvement as a member of our GWSB Board of Advisors, former president of the GW Alumni Association, as a best-selling author, and as a member of our Dean's Diversity Council. This student-moderated event will be co-sponsored by the Undergraduate Business Association (UBA). Please stay tuned for more details!
Continuing our Diversity & Allyship Week events, on Thursday, February 9 from 8:30 - 11:00 a.m., the F. David Fowler Career Center will host a Diversity Breakfast Recruiting Roundtable where students will be able to speak with featured employers who will share about their respective company DEI initiatives, organizational cultures, and recruitment programs.
Registration for this event
 will open on January 17.
Friday, February 10 from 5:30 - 8:30 p.m. EST will be the next installment of the popular
Graduate Industry Roundtable event
. This semester it will be held virtually. We invite our students to sign up as soon as you can because seats fill up fast for this signature event. Please take a look at our
GWSB events calendar
 to keep track of what's ahead, and don't forget to check the
University Events calendar
 for other events happening across the university.
Books and Reading Recommendations
I recently had the pleasure of reading
an article written by our faculty colleague Professor Joel Gehman
, who serves as the Thaddeus A. Lindner and Sergius Gambal Professor of Business Ethics and is also a professor of strategic management and public policy. The title of Professor Gehman's article asked a simple but profound question: Have You Done Enough on Purpose? While there are many exceptional articles and publications to share from our faculty, I thought this one captured the essence of what so many of us associate with a new year—goal-setting, reflection, impact measurement and analysis. Business ethics provides a solid foundation for the practice of entrepreneurship, and is key for enterprises both large and small, and these ideas are what
led Eric Lindner (B.B.A. '81), former GW Board of Trustees member, to launch a newsletter
 called "The Engine under the Hood: The Power of Principled Leadership," where Professor Gehman and other experts can offer perspectives on business ethics.
As many have seen, I've been asking our community for book recommendations in my recent monthly messages. I'm pleased to share two books that have been submitted since my last message:
"America Calling: A Foreign Student in a Country of Possibility" by Rajika Bhandari; and
"Being Heumann: An Unrepentant Memoir of a Disability Rights Activist" by Judith Heumann and Kristen Joiner.
Thank you to the two individuals who submitted these books. Both seem fascinating and insightful. For
suggestions for my next letter
, I am especially looking forward to any books that relate to the themes of hope and inspiration, the defining sentiments for the first few weeks of any new year.
Here's to a great new semester. Looking forward to seeing you all soon.
Stay safe and stay well,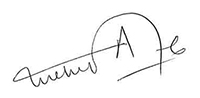 Anuj Mehrotra, Ph.D.
Dean