Jenny Zha Giedt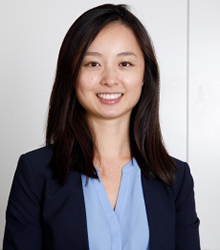 Jenny Zha Giedt
Assistant Professor of Accountancy
---
Contact:
Office Phone:
(202) 994-7751
2201 G Street NW, Suite 601
Washington DC 20052
Jenny Zha Giedt joins the George Washington University School of Business as an Assistant Professor in the Department of Accountancy, teaching "Introduction to Financial Accounting" in the core undergraduate business program. Hailing from the San Francisco Bay Area, she earned her PhD from the Haas School of Business at UC Berkeley, where she was selected for the Outstanding Graduate Student Instructor award. Her research focuses on the economic consequences of corporate disclosures and accounting decisions.
Prior to Berkeley, Dr. Zha Giedt worked in the audit and forensic groups at KPMG LLP in Los Angeles. She also has experience in the mutual fund and hedge fund industries, having worked for US Bank and Dorchester Capital. She is a registered CPA in California and a Deloitte Foundation Doctoral Fellow.
Ph.D., Business Administration, Accounting, UC Berkeley, 2016
M.S., Business Administration, Accounting, UC Berkeley, 2013
B.S., Accounting, University of Southern California, 2010
B.S., Business Administration, Finance, University of Southern California, 2010