Dr. Anuj Mehrotra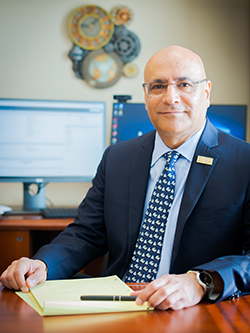 Dr. Anuj Mehrotra
Dean
---
Contact:
2201 G Street NW, Suite 660
Washington, DC 20052
Anuj Mehrotra, Ph.D. is the dean of the George Washington University School of Business (GWSB). Under Dean Mehrotra's leadership, GWSB has reimagined graduate business education through its modular and flexible offerings featuring industry driven certificates that help create customizable master's degrees. This innovative design allows the school to proactively respond to the shifting demands of business education. The School has also made changes to its undergraduate offerings by launching new B.S. degrees in Business Analytics, Information Systems, and Entrepreneurship as well as creating a business major for non-business students. GWSB has also invested in making its programs more accessible through investing in online education. Dean Mehrotra is credited with engaging the alumni and the business community with a focus on student success and lifelong learning through innovative programs such as the George Talks Business series that offers weekly moderated conversations with notable alumni and respected thought leaders in the business, government, and non-profit arenas and Communities of Practice that offer experiential learning for career readiness. During his tenure, GWSB has significantly improved in both national and global rankings and realized substantial growth in graduate student enrollment. Dean Mehrotra is a member of the Economic Club of Washington, D.C. and is on the board of Greater Washington Board of Trade.  
Prior to coming to GWSB in July 2018, Dr. Mehrotra was at the (now) Miami Herbert Business School where he served as senior vice dean, the vice dean for faculty development and research, the Leslie O. Barnes Scholar and a professor of management science. He also served as the school's interim dean, as vice dean of graduate business programs and executive education, as vice dean for faculty affairs, and as chairperson of the Department of Management Science. During Dr. Mehrotra's tenure as interim dean at the University of Miami Business School, the school was successfully re-accredited by AACSB, the school's graduate degree programs grew in enrollment, and the school's fundraising grew by 70 percent year-over-year. He led the launch of online and hybrid degree programs that helped realize a 70 percent growth over a five-year period. Concurrently, the school's degree and non-degree programs received recognition among the best in various rankings.
His research interests are in large-scale optimization and interdisciplinary applications. Dr. Mehrotra's research has been published in the top-tier academic journals, including Management Science, Mathematical Programming, Naval Research Logistics, and the Informs Journal on Computing. He has been invited to present his research at national and international meetings and co-edited a book as well as a special issue of Discrete Applied Mathematics on computational methods for graph coloring and its generalizations. He has also co-chaired several conferences in optimization and related application areas. Dr. Mehrotra has worked with over two dozen Fortune 500 companies and his previous experience includes visiting positions at the Tepper School of Business at Carnegie Mellon University and at the T. J. Watson Research Center. In 2022, Dean Mehrotra's expertise in his field was honored with a Chaired Professorship in his name from Woxsen University in Hyderabad, India.
Dean Mehrotra received his doctoral degree in operations research from the Georgia Institute of Technology, his master's degree from Virginia Tech, and his bachelor's degree in mechanical engineering from the Birla Institute of Technology and Science in India.