A Welcome Message From Dean Mehrotra
Greetings from Washington, D.C.!
The George Washington University School of Business (GWSB) is committed to cutting-edge research and providing students with the best business education available today. GWSB is a renowned institution with a distinguished faculty that makes significant, frequently groundbreaking contributions to drive business change and public policy. Their thought leadership helps to shape our innovative curriculum, providing GWSB students with the tools they need to successfully compete in today's global and dynamic business environment.
Our world-class education is offered through a wide range of programs within a campus community that embraces all forms of diversity, recognizing that our differences spark the innovation and creativity necessary to meet the challenges of the future. Above all else, we are committed to our students and to ensuring that they leave GWSB fully prepared to lead and excel in the business world.
Located in downtown Washington, D.C., our campus is in the heart of one of the world's greatest multicultural cities, home to the U.S. federal government and its agencies as well as leading national and international institutions, nonprofits, and public and private sector organizations. The proximity to these organizations and the decision makers who lead them affords GWSB students unequaled opportunities to observe and participate as history is made and our global economy is transformed. This sets us apart in preparing our students to effect positive change in the U.S. and abroad.
The value of a GWSB degree is perhaps best demonstrated by the impressive achievements and success of our distinguished graduates. The GWSB alumni community is highly engaged, active, and ready to go the extra mile to share their time and talents with GWSB students. A GWSB diploma offers lifelong membership in this internationally connected support group of talented and accomplished individuals.
This is an exciting time for the GW School of Business. I encourage you to learn more about our vibrant community, and we would like to learn about you as well. Please email us your questions, ideas and aspirations. We look forward to hearing from you.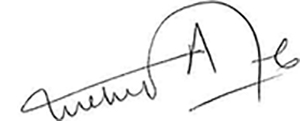 Dr. Anuj Mehrotra
Dean
Read Dean Mehrotra's Monthly Updates
View Dean Mehrotra's Faculty Profile Page