Dear GWSB Community,
Please find the statement from President Wrighton in response to the recent incidents of violence in our country and the statement reaffirming that the George Washington University strongly condemns antisemitism and hatred, discrimination, and bias in all forms. Whether it is the senseless violence that takes innocent lives, racism, antisemitism, or discrimination, we must double up our efforts and pay even more attention to creating a sense of belonging, safety, and inclusion in our community. It has been difficult to hear from many of our students, faculty, alumni, and staff colleagues about the pain they are feeling. We will accelerate and increase our efforts to create a welcoming and safe environment for all. 
Remembering Morton Funger and F. David Fowler 
We are grateful for the contributions and leadership of the late Morty Funger (A.A. '52, B.A. '53), and F. David Fowler, our former dean, who recently passed away and will be fondly remembered by our community for their outstanding support of GWSB over several decades. While I was acquainted with Mr. Fowler for only a brief period, it did not take long to know that he was steadfast in his engagement and support of our students. Both Mr. Funger and Mr. Fowler truly loved GW. Details about Mr. Fowler's service and his legacy at GWSB will be included in an upcoming story in GW Today.
Announcement and Signature Programming
It was exciting to see the announcement of the University's 19th president, Dr. Ellen Granberg, who will begin her tenure on July 1. Dr. Granberg is a nationally-recognized sociology scholar who currently serves as provost and senior vice president for academic affairs at Rochester Institute of Technology (RIT) and was previously an academic leader at Clemson University. Before she began her career in higher education, she spent more than a decade working for a Fortune 500 telecommunications firm. I look forward to working with Dr. Granberg and to the ways we will benefit from her expertise.
Diversity and Inclusion
I am looking forward to celebrating the 2023 GW Business Diversity & Allyship Week from February 6-10. The week will begin with a George Talks Business segment with Elena Richards, principal and chief diversity, equity and inclusion officer at KPMG in the Jack Morton Auditorium from 1:00 p.m. - 1:45 p.m. ET. We are grateful that Ms. Richards will spend time with our students during a special KPMG networking session following our conversation from 2:00 - 2:30 p.m. ET. During this time, students will have the opportunity to meet and interact with KPMG employees, who will include GW alumni. It will be wonderful to have everyone join us for the programming we have planned for this exciting week.
Cybersecurity 
On Thursday, February 23, we will have a George Talks Business session focused on cybersecurity, featuring panel participants Scott Smith, partner and principal at Ernst & Young, and Brandon Wales (CCAS '99), executive director of the Cybersecurity and Infrastructure Security Agency. We will discuss recent and emerging efforts to address risks to the cyber ecosystem—using a national security, business, and regulatory outlook. 
Speaking of cybersecurity, planning for our GW Business & Policy Forum on Cybersecurity is progressing rapidly. I am pleased to share that registration is now open for faculty, staff, students, and for external participants. The lineup of keynote speakers is continuing to grow, with many leaders from law, government, corporate, and academic organizations. We're excited that our GW Business & Policy Forum on Cybersecurity has the support of Mosaic Insurance, Business Management Associates, Inc., Globant, and KPMG as sponsors. Globant is a global technology and IT organization that is an ongoing partner with GW Business, through the "Be Kind Tech Fund," which focuses on reducing the harms of technology. GW Business was an inaugural sponsor of Globant's annual "Women that Build" Awards, which we continue to support.
Alumni 
I am in Cape Town, South Africa this week for a retreat with alumni of the Capital Markets Program. This is always an enjoyable experience. It's inspiring to catch up with the alumni and hear about the positive impact they are making in their countries and communities, a testament to their ingenuity and drive. This program, in partnership with IFC and the Milken Institute, and now in its tenth cohort, is an example of how we innovatively leverage our locational advantage to make a global impact.
And, it was great to be with a room full of GW School of Business and GW Law School alumni during the men's basketball game last week against Saint Joseph's at the Charles E. Smith Center. I'm glad we were able to enjoy great conversations at the reception and also witness such a riveting game!
Along with the exciting initiatives I've mentioned in this letter, we are also preparing for our AACSB (Association to Advance Collegiate Schools of Business) reaccreditation this year. I look forward to meeting some deans on our visiting committee during my upcoming trip to the AACSB Deans Conference in San Antonio.
In the meantime, I look forward to seeing you at our upcoming events.
Stay safe and stay well,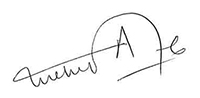 Anuj Mehrotra, Ph.D.
Dean