Bonnie Pierce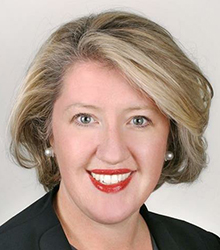 Bonnie Pierce
Visiting Professor of International Business
---
Contact:
2201 G Street NW, Suite 401
Washington, D.C. 20052
Bonnie J. Pierce is a visiting assistant professor of International Business at the George Washington School of Business. She has been a faculty member of the International Business Department since 2007, where she has taught Global Perspectives, International Business Strategy, Negotiations, International Banking, and Intro to International Business. She also teaches G&EE Business & Society classes in the area of innovative technology.
Bonnie has more than 25 years of experience working in emerging markets private equity, institutional asset management, investment consulting, global banking and advocacy. She has advised and built investment solutions for Fortune 500 companies, sovereign wealth funds, public retirement plans, foundations, endowments and multinational organizations as well as developed strategies for acquisitions, privatization, international expansion, and socially responsible investing. During her career she has conducted business across more than 20 countries and cultures. She began her career in international policy. In 2016, she became Managing Director of ndp | analytics, a strategic economic research and communication boutique specializing in advocacy. She supports her clients' policy issues and develops innovative quantitative strategies to successfully win their advocacy battles. Her clients represent a diversified array of industries from financial services, technology, energy, pharmaceuticals, and airlines to affordable housing.
Bonnie has two MBAs, from Columbia Business School and London Business School, with concentrations in Finance and Corporate Strategy respectively.  She is a double Terrier holding an MA in International Relations and a BA in European History from Boston University. Bonnie is a board member of the BU Frederick S. Pardee School of Global Studies Dean's Advisory Board and serves on the BU Alumni Relations Task Force. She is also a Girl Scout troop leader, former opera singer, and a sommelier. Bonnie resides in Washington, D.C. with her husband and two daughters.
Member of the Boston University Frederick S. Pardee School of Global Studies Advisory Board
---
Girl Scouts of America — Troop Leader
Associazione Italiana Sommelier, Milan — Sommelier
Board of Trustees, National Presbyterian School, Washington, D.C. — Former Trustee
M.B.A., Finance, Columbia Business School, 2004
M.B.A., Corporate Strategy, London Business School, 2004
M.A., International Relations, Boston University, 1994
B.A., Boston University, 1992